Fire Truck Involved in Rollover Crash While Responding to Call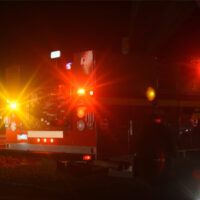 DeKalb County, TN (November 4, 2020) A DeKalb County Volunteer Firefighter avoided being seriously injured on November 4th after the fire truck that he was driving crashed on Allen Ferry Road. The accident occurred while the firefighter was responding to a call on Cookeville Highway. The accident occurred while the firefighter was turning a curve. The rollover happened after the truck's tires dropped off the side of the road. After the firefighter attempted to correct, his truck crossed over the road and overturned. As it was in the process of crashing, the fire truck collided with a utility pole and the rear portion of the truck separated from the cab and chassis.
Firetruck accidents occur at the rate of around 30,000 crashes annually and can have devastating consequences not just for the firefighters involved, but also for the entity who is waiting on the emergency service. Additionally, data compiled by both the United States Fire Administration and the National Highway Traffic Safety Administration has found that firefighters often neglect to wear seatbelts because they are in a hurry and as a result end up at an elevated risk for being seriously injured or killed when devastating accidents like rollovers occur.
A Tennessee Truck Accident Attorney Will Fight for the Results You Deserve                 
Rollovers are almost always devastating in nature and leave victims uncertain about how to proceed. One of the best steps to take in such a situation is to promptly obtain the assistance of an experienced attorney. Contact Fox, Farley, Willis & Burnette and during a free case evaluation, an attorney will review your various available options to pursue compensation.
Note: This post was written based on available resources, news stories, and online reports about this incident. As is often the case with fast breaking news, there is always the risk that some details are still being shared and uncovered. Please contact us if you notice any information that should be changed or added. Thanks!