Federal Audit Criticizes NHTSA's Handling of Takata Airbag Recall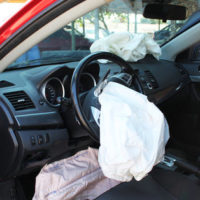 It seems like every week there's a new headline about some dangerous or defective product subject to a government recall. Many people simply take it on faith that the recall will fix whatever problem exists. But the reality is that the recall process itself is far from perfect–and when we're talking about products like automobiles, a poorly managed recall can put innocent lives at risk of injury or even death.
Agency "Lacks Documentation and Management Controls"
We first discussed the Takata airbag recall several years ago. This problem actually dates back nearly 10 years. Several automobile manufacturers were forced to recall tens of million vehicles equipped with Takata's airbags, which due to a manufacturing defect were prone to exploding when deployed.
Now the recall itself has come under scrutiny. More precisely, the U.S. Department of Transportation's Inspector General (OIG) conducted an audit of the National Highway Traffic Safety Administration's handling of the Takata airbag recall. The OIG published the results of that audit on July 18, 2018.
And those results were not good. The OIG found the NHTSA's recall process "lacks documentation and management controls, and does not ensure that remedies are reported completely and in a timely manner." Indeed, the NHTSA did not even bother to "verify recall completion rates," despite possessing the legal authority to obtain such information. Even more troubling, the OIG said the NHTSA "expanded its oversight of the Takata recalls" without first following the agency's internal procedures to address the prior low completion rates.
As the popular technology news website CNET put it, the NHTSA "essentially dragged its feet in deciding the scope of the Takata recall early on, which may have delayed recalls of potentially fatal airbag inflators."
The OIG issued six recommendations for the NHTSA to implement in future recalls. These include developing a "risk-based process to monitor manufacturers' reporting of recall remedy, scope, and risk information," and creating "specific timelines" for requiring manufacturers to submit important recall-related communications. Although the NHTSA adopted many of the recommendations without objection, it claimed it could not establish "a specific deadline for establishing communications because they vary widely from recall to recall."
The Importance of Contacting a Personal Injury Lawyer
An important lesson from the OIG's report is that government recalls are not a foolproof means for guaranteeing the public's safety. And even when a recall is properly managed and swiftly implements, this often comes too late for victims who have already suffered serious injury–or death–due to a manufacturer's negligence.
This is where state personal injury laws come into play. All manufacturers who do business in Tennessee can be held liable for dangerous or defective products. And if you are the victim of such negligence, it is in your best interests to speak with a qualified Clinton product liability attorney as soon as possible. Contact the offices of Fox, Farley, Willis & Burnette, Attorneys at Law, at 865-457-6440 to schedule a free, no-obligation consultation with a member of our team today.
Sources:
commerce.senate.gov/public/_cache/files/e232d0e6-510e-4978-bd3e-e76dc1f2e3a9/C3C546BCE5E1BAB3C863026D9DC07B41.nhtsa-auto-recalls-final-report-07-18-18.pdf
cnet.com/roadshow/news/government-audit-nhtsa-takata-recalls/