Fatal Jellico Collision Involves Brother and Sister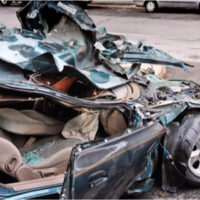 Jellico, TN (November 16, 2020) A tragic accident that involved the deaths of motorists occurred on Interstate 75 late in the afternoon of November 16th. As a result of the accident, the southbound side of Interstate 75 at mile marker 150 was shut down for approximately three hours as agencies cleaned up the wreckage.
A Tennessee Highway Patrol officer reports that one driver was traveling in the right lane of Interstate 75 when his Chevrolet pick-up struck the back of an 18 wheeler. The collision pushed the Chevrolet into the left lane at which point a Ford F-250 driven by the Chevrolet driver's sister struck the driver's side of the Chevy. The Chevy's driver was fatally injured. The driver of the Ford F-250 as well as her two passengers were fortunately not injured in the accident.
It remains uncertain what caused the Chevrolet driver to crash into the tractor-trailer, but an investigation is ongoing.
When 80,000 pound large trucks rear end 4,000 pound passenger vehicles, life-changing injuries and fatalities are common. When passenger vehicles rear end commercial trucks, however, fatalities are just as common. The Insurance Institute for Highway Safety reports that 23% of deadly large truck accidents involved passenger vehicles that struck the rear end of large trucks.
Contact an Experienced Truck Accident Attorney                 
Due to their immense size and weight, accidents involving tractor trailers are almost always devastating. If someone else caused your truck accident whether it was another driver, a parts supplier, a pedestrian, or any other party, you should not hesitate to discuss your situation with a skilled lawyer. At Fox, Farley, Willis & Burnette, our attorneys can review your case during a free evaluation and help you determine your available options to pursue compensation.
Note: This post was written based on available resources, news stories, and online reports about this incident. As is often the case with fast breaking news, there is always the risk that some details are still being shared and uncovered. Please contact us if you notice any information that should be changed or added. Thanks!