Fatal Bus Accident Occurs in Meigs County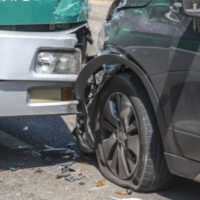 Meigs County, TN (October 27, 2020) The Tennessee Highway Patrol recently reopened a portion of Highway 58 after investigating a deadly bus crash that occurred in Meigs County close to the Bradley County line. Law enforcement states that both a bus driver as well as a 7-year-old died in the accident. Seven of the other 22 children on the bus were injured in the crash. Five of these children were airlifted by medical helicopter to Chattanooga's Erlanger Medical Center, and at least one child was placed in critical condition. The driver of the other vehicle received minor injuries.
Initial reports show that a service truck was headed north on Highway 58 when its driver lost control of the vehicle, overcorrected, reentered the highway, and skidded into an oncoming bus. The bus driver unfortunately had no time in which to stop the bus. A full accident report is pending from the Tennessee Highway Patrol.
The National Highway Traffic Safety Administration reports that in 2018, school bus-related crashes resulted in the deaths of 117 individuals. Between 2009 to 2018, approximately 70% of the deaths associated with school bus crashes were the occupants of the other vehicle while only 5% were school bus passengers.
Contact an Experienced Tennessee Bus Accident Lawyer
Parents worry about many aspects of their child's life. Unfortunately, each year many children are injured or killed as a result of bus accidents. In these situations, parents should remember they have a right to pursue compensation. Contact Fox, Farley, Willis & Burnette today to schedule a free case evaluation.
Note: This post was written based on available resources, news stories, and online reports about this incident. As is often the case with fast breaking news, there is always the risk that some details are still being shared and uncovered. Please contact us if you notice any information that should be changed or added. Thanks!