Emergency Workers Respond to Accident in Cumberland County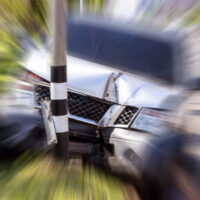 Cumberland County, TN (October 28, 2020) Emergency workers on October 28th responded to a car crash in Cumberland County on Chestnut Hill Road close to Hillbilly Hollow Road. The crash report of the incident indicates that the driver of a Nissan Maxima lost control of his vehicle while navigating a curve and ended up sideswiping a telephone pole. The vehicle then went down an embankment and struck a tree head-on. The driver was then transported to Cumberland Medical Center for medical care. Additional details about the accident including what caused the driver to lose control of his vehicle are still pending.
The Insurance Institute for Highway Safety has found that utility poles are the second most common objects struck by motor vehicles, while trees are the first. When a motor vehicle crashes into utility poles, the pole can fall down, the lines might fall on the vehicle, and sometimes the vehicle or the area surrounding the vehicle might become charged with electricity. This means that if an accident victim steps out of their vehicle, the person's body might become the path to ground for the electricity, which could quickly result in electrocution.
Speak with a Tennessee Car Crash Attorney                
If someone else caused your Tennessee car crash, you need the assistance of a dedicated accident lawyer who will fight to make sure that you receive the maximum amount of compensation possible. During a free case evaluation, an attorney at Fox, Farley, Willis & Burnette will review your various available options to pursue compensation. Contact our law office today for assistance.
Note: This post was written based on available resources, news stories, and online reports about this incident. As is often the case with fast breaking news, there is always the risk that some details are still being shared and uncovered. Please contact us if you notice any information that should be changed or added. Thanks!