Dump Truck Turns Over On Highway 70 East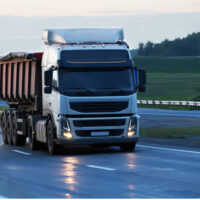 Crab Orchard, TN (September 28, 2020) Law enforcement and emergency workers responded to the scene of an accident on the morning of September 28th that occurred on Highway 70  close to Market Street. The aftermath of the accident involved a dump truck that rolled over. Additional details about the accident including the cause of the crash as well as whether any injuries were incurred still remains under investigation.
The Federal Motor Carrier Safety Administration found that in 2017 there were 380 deadly crashes involving dump trucks while there were 5,621 crashes resulting in injuries and 8,288 crashes that required a dump truck to be towed away. Regardless of the damage involved, it's a common occurrence for dump trucks to roll over following an accident. One common reason dump trucks rollover is that loads are unbalanced and this disruption of weight facilitates imbalance in the truck. Additionally, dump trucks have a higher center of gravity than many other vehicles and as a result at greater odds of rolling over. Other times, dump truck drivers might fail to make sure dump trucks are on level surfaces, which can result in rollovers following crashes.
Obtain the Services of a Seasoned Tennessee Truck Accident Lawyer                 
Due to their immense size and weight, truck accidents in Tennessee are often devastating and can leave victims suddenly facing various costs. One of the best ways to pursue the results you deserve is to retain the assistance of an experienced accident attorney as soon as possible after your crash. Contact Fox, Farley, Willis & Burnette today for assistance.
Note: This post was written based on available resources, news stories, and online reports about this incident. As is often the case with fast breaking news, there is always the risk that some details are still being shared and uncovered. Please contact us if you notice any information that should be changed or added. Thanks!