Dump Truck Overturns on Highway 70 East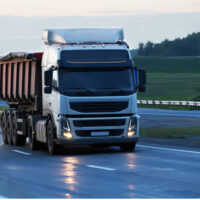 Cumberland County, TN (August 31, 2020) An accident occurred the morning of August 31st in Cumberland County that blocked a lane of Highway 70 East for more than an hour. The Tennessee Highway Patrol later reported that a GMC dump truck was traveling east when a 2015 Toyota Camry pulled onto Highway 70 East from Deep Draw Road. As a result of the collision, the dump truck driver lost control and the vehicle overturned. Both drivers were wearing seatbelts at the time of the collision.
The Federal Motor Carrier Safety Administration found that in 2016, there were 367 fatal accidents involving dump trucks. This marked an increase from the 325 fatal dump truck accidents that occurred in 2014.
Factors that Increase the Risk of Dump Truck Accidents 
Dump trucks have several qualities that greatly increase the risk of accidents, which include:
The drivers of dump trucks have a much larger blind spot than the drivers of passenger vehicles.
Dump trucks are situated higher off the ground than many other vehicles. As a result, dump trucks are at a greater risk of rollovers.
The substantial size and weight of dump trucks makes them more difficult to maneuver.
Dump trucks frequently travel in groups rather than one at time, which creates a greater risk of pile-up accidents. 
Retain the Assistance of an Experienced Accident Lawyer
When dump truck accidents occur, it is common for serious accidents to occur that can change the lives of the victims involved. To make sure that the party responsible for your accident is held accountable, do not hesitate to contact Fox, Farley, Willis & Burnette today to schedule a free case evaluation.
Note: This post was written based on available resources, news stories, and online reports about this incident. As is often the case with fast breaking news, there is always the risk that some details are still being shared and uncovered. Please contact us if you notice any information that should be changed or added. Thanks!