Drunk Driver Crashes Into Tree After House Party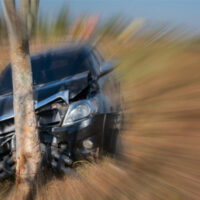 Campbell County, TN (December 12, 2020) Law enforcement states that they found a man lying in bed covered in vomit and the strong smell of alcohol after he collided into a tree. The arrest occurred after Campbell County law enforcement found an abandoned pick-up truck wrapped around a tree. After talking to a person who recognized the truck, law enforcement learned that the driver had recently left a house party and had walked home following the collision. Law enforcement then arrived at the man's house. After arresting the man, law enforcement took the man to the crash scene where the man declined to give information and claimed he did not remember the crash. Law enforcement then searched the vehicle and found a pistol as well as nine rounds of ammunition in the magazine. The man was then taken to Campbell County Jail for testing but he refused to take a field sobriety test or consent to either a breath or blood test. The man has since been charged with leaving the scene of the accident as well as driving under the influence, failing to exercise due care, filing a false report, possession of a handgun while under the influence, and violation of implied consent.
The National Highway Traffic Safety Administration reports that fatalities in alcohol-impaired crashes dropped by 3.6 percent from 2017 to 2018 and decreased from 10,908 to 10,511. One of the best things that you can do to avoid being struck by a drunk driver is to pull over to the side of the road, let the motorist pass, and contact 911 if you notice a driver who you believe to be intoxicated.
Speak with an Experienced Car Crash Attorney
If you or a loved one has been seriously injured or impacted as a result of a drunk driver, you should not hesitate to speak with a knowledgeable attorney. Contact Fox, Farley, Willis & Burnette today to schedule a free case evaluation.
Note: This post was written based on available resources, news stories, and online reports about this incident. As is often the case with fast breaking news, there is always the risk that some details are still being shared and uncovered. Please contact us if you notice any information that should be changed or added. Thanks!