Driver Injured After Vehicle Strikes Bank Sign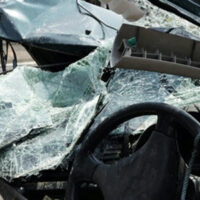 Knoxville, TN (October 8, 2020) A Knoxville man was seriously injured on October 8th when his vehicle left the road and collided with a Dandridge bank sign. Due to the collision, firefighters at the Dandridge Volunteer Fire Department had to extricate the driver from the wreckage of his Infiniti G20 following the accident. Due to injuries incurred in the accident, the driver was transported to the University of Tennessee Medical Center. Additional details about the crash including what caused the driver's vehicle to leave the road are still uncertain.
The Insurance Information Institute reports that stationary vehicle collisions involving trees were the most common type of stationary object accidents in 2018. Some of the other most commonly struck objects include utility poles, traffic barriers, and embankments. Bank signs would likely fall in the Insurance Information Institute's category of "other" for stationary object collisions. The Institute reports that 709 deadly accidents in this category occurred in 2018. Many of the deadliest accidents involving fixed obstacles occur at night. Alcohol is also a contributing factor in many deadly stationary object collisions. There are various reasons why motorists end up in these accidents, but some of the most common factors include excessive speeding, falling asleep at the wheel, inattentive driving, and driving with limited visibility.
Speak with a Knowledgeable Tennessee Car Crash Lawyer 
Following Tennessee car crashes, it is common to feel overwhelmed and uncertain about how to proceed. One of the best steps that you can take is to promptly speak with a car accident attorney. Schedule a free case evaluation with an attorney at Fox, Farley, Willis & Burnette today.
Note: This post was written based on available resources, news stories, and online reports about this incident. As is often the case with fast breaking news, there is always the risk that some details are still being shared and uncovered. Please contact us if you notice any information that should be changed or added. Thanks!