Driver Injured After Vehicle Crashes Into Clinch River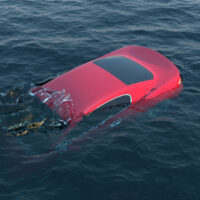 Roane County, TN (September 29, 2020) Kingston law enforcement and emergency workers responded to a motor vehicle crash on the night September 29th. The accident occurred when the driver of a Ford Taurus was traveling east on Roane State Highway at a high speed when the vehicle left the road and entered the Clinch River. All three people in the motor vehicle were able to get out of the car before it submerged into the water. While one passenger was transported to the Roane Medical Center with non-life threatening injuries, the others in the vehicle were able to escape the accident without the injuries. The driver was later charged with failure to provide proof of insurance and might end up facing additional charges. Further details about the crash including what caused the driver to leave the road are still under investigation.
A leading cold water submersion expert at the University of Manitoba reports that 350 to 400 Americans die each year as a result of vehicles that become submerged in water. A larger number of people are seriously injured each year in car crashes involving water. While water accidents with vehicles are not common, they present extra risks including the danger of drowning if a person does not escape the water quickly enough.
Speak with an Experienced Tennessee Car Crash Attorney                 
If you've been in a Tennessee car accident that left you or a loved one injured or if someone you loved has died as a result of a Tennessee car crash, you need the help of an experienced accident attorney. Contact Fox, Farley, Willis & Burnette today to schedule a free case review.
Note: This post was written based on available resources, news stories, and online reports about this incident. As is often the case with fast breaking news, there is always the risk that some details are still being shared and uncovered. Please contact us if you notice any information that should be changed or added. Thanks!