Driver Flees Greeneville Accident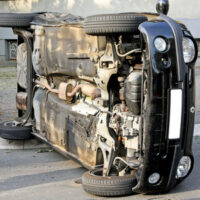 Greeneville, TN (September 23, 2020) The driver of a vehicle that ended up in a one car crash fled the scene on September 23 around 2:45 AM close to the Dashaway Road intersection. The driver's Chevy Aveo was headed north on Kingsport Highway when the vehicle went off the right side of the road. The car then traveled along a ditch line and rolled over after striking a driveway entrance. The Tennessee Highway Patrol reports that the driver then fled the scene of the accident. The investigation is still ongoing while the driver has not yet been located and the cause of the accident still remains uncertain.
The American Automobile Association (AAA) has found that approximately 682,000 hit and run crashes have occurred in the United States annually each year since 2006. While many of these accidents result in fatalities or injuries, sometimes hit and run accidents result in simply property damage. One of the biggest challenges for the victims of hit and runs is how to identify the driver responsible for the crash. If you saw the accident occur, it is best to write down any details you can remember about how the crash occurred. Also whether you've been injured or incurred property damage, following a hit and run accident, you should not hesitate to call law enforcement.
Obtain the Services of an Experienced Tennessee Car Crash Lawyer
If you or a loved one has been injured in a Tennessee hit and run accident or incurred property damage, it can be overwhelming to decide how to respond. One of the best steps that you can take is to schedule a free case evaluation with a knowledgeable attorney. Contact Fox, Farley, Willis & Burnette today.
Note: This post was written based on available resources, news stories, and online reports about this incident. As is often the case with fast breaking news, there is always the risk that some details are still being shared and uncovered. Please contact us if you notice any information that should be changed or added. Thanks!