Driver Experiences Minor Injuries After Being Pinned in Tractor-Trailer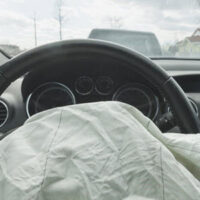 Knoxville, TN (July 23, 2020) A tractor-trailer driver was pinned in his vehicle recently, but the Knox County Rural Metro Fire Department reports that he received only minor injuries. Responders from Rural Metro Fire and Knox County responded before 1 p.m. to Lovell Road near Interstate 40 in West Knox County. Workers discovered that the vehicle was partially under the trailer and that the driver was trapped in the vehicle. The driver was later transported to the hospital for examination.
While the driver in this situation might have escaped with minor injuries, the Insurance Institute for Highway Safety reports that 4,136 people died in 2018 in large truck crashes.
Common Injuries Caused by Pinning Accidents 
Pin-in car accidents often involve a substantial force that causes a vehicle to spin out of control and strike another object like a car, boulder, or utility pole. The victims are then pinned into vehicles, which often necessitates rescue teams to use various tools to extract the victim from the wreckage. Some of the most common injuries that victims face after pin-in accidents include:
Arm and legs injuries, which might include amputations or bone fractures
Broken bones
Head damage, which often results in traumatic brain injuries
Spinal cord damage, which can lead to full or partial paralysis
Contact a Knoxville Car Accident Attorney
Being trapped in a vehicle is one of the most serious consequences of motor vehicle accidents. If you are involved in such an accident and need the assistance of a skilled attorney, do not hesitate to contact Fox, Farley, Willis & Burnette today to schedule a free case evaluation.
Note: This post was written based on available resources, news stories, and online reports about this incident. As is often the case with fast breaking news, there is always the risk that some details are still being shared and uncovered. Please contact us if you notice any information that should be changed or added. Thanks!