Does A Business Have To Provide A Defibrillator?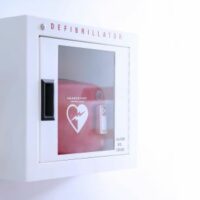 On the one hand, it seems unfair to hold a business responsible when someone dies because of a heart attack on the business' property. After all, heart attacks are naturally occurring and generally unpredictable. But there is a growing body of law that says that businesses can and should be responsible for having accessible, working defibrillators on their property to aid people in distress and increase the survivability rate of those who suffer heart attacks on business property.
What is a Defibrillator?
A defibrillator, sometimes called an automated external defibrillator or AED, is a simple, light, device that can be used by just about anyone—including those with no medical training at all. Some even speak to users, guiding them through the process of using the device, and Tennessee good Samaritan laws protect those who try to use defibrillators in good faith on those in need.
AED devices are relatively cheap—some can cost between $1,000-$2,000—making it easy for even small businesses to have one that is accessible.
Requirements for Businesses
Tennessee requires that any business where people will be expected to use a defibrillator be given appropriate training on the defibrillator's usage. This includes training employees in CPR. Businesses must make sure the device is maintained, tested, and is in working order, if one is provided. Businesses with an AED must have written processes that document who will use the AED where the AEDs will be located, and who has oversight over maintaining the devices. A licensed physician must supervise and approve the plan for the AEDs, and the physician must be notified any time the AED is actually used.
Who Must Have Them?
Every public high school is required to have working AEDs, but lower schools are not required to have them. Likewise, dental offices where sedation is used are also required to have defibrillators on site.
But that's just the properties that the law specifically says must have defibrillators. Businesses of any kind can still be held liable, if someone is killed or injured because of the failure of a business to have or properly maintain an AED.
Generally, any business where people may be expected to exert themselves, or where the business may cater to a population that may be prone to heart attacks, should have defibrillators, and may be sued if they do not have them, or if staff are not properly trained in how to use them. Additionally, anywhere that people can be expected to endure serious physical exertion, such as sporting events or gyms, should have operable defibrillators.
Note that a private business that provides a defibrillator does not have liability for a third party ( a non-employee) that uses or fails to use the defibrillator. In other words, when a lay person uses a defibrillator, the business has no control over what that person does or does not do.
Call the Knoxville personal injury attorneys at Fox Willis Burnette, PLLC, for help today if you are injured on someone else's property.
Resource:
aed.com/tennessee-aed-statutes-regulations