Deadly Motorcycle Crash Occurs in Knox County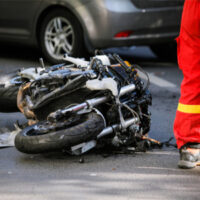 Knox County, TN (October 19, 2020) One person was killed while another person incurred various injuries following a motorcycle crash that occurred on the night of October 19th. Law enforcement stated that the accident involved a motorcycle crashing into a utility pole on Tazewell Pike. While one person was found deceased at the scene by law enforcement, the injured individual was transported by ambulance to the University of Tennessee Medical Center. The injured person's condition and current status are still uncertain.
The Insurance Information Institute reports that in 2017, 5,172 motorcyclists died in motorcycle accidents. This statistic means that in 2017, motorcyclists were 27 times more likely than the occupants of passenger vehicles to die in crashes based on vehicle miles traveled. There are several primary reasons why motorcycles are much more dangerous than passenger vehicles. One, motorcyclists have much less protection than passenger vehicle occupants. Two, motorcycles often encounter challenges when stopped quickly. For example, motorcyclists who try to brake suddenly often discover that bikes spin easily out of control. Third, motorcyclists have much less control over bikes than drivers do over passenger vehicles.
Contact a Tennessee Motorcycle Accident Attorney                 
One of the most myths about motorcycle accidents is that they are always the fault of the motorcyclist. In reality, a large number of motorcycle accidents occur because the drivers of passenger vehicles cannot see the motorcyclist or make other errors that endanger the motorcyclist. If you or a loved one has been injured in a Tennessee motorcycle crash, you should not hesitate to speak with a knowledgeable lawyer. Schedule a free case evaluation with Fox, Farley, Willis & Burnette today.
Note: This post was written based on available resources, news stories, and online reports about this incident. As is often the case with fast breaking news, there is always the risk that some details are still being shared and uncovered. Please contact us if you notice any information that should be changed or added. Thanks!