Deadly Crash on Interstate 24 West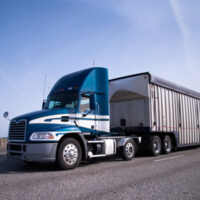 Pleasant View, TN (November 19, 2020) A section of Interstate West 24 reopened on November 19th close to Pleasant View following a deadly crash that occurred there earlier in the day. The accident occurred around 8:15 in the morning close to Maxey Road. The Tennessee Highway Patrol states that the crash involved a tractor-trailer as well as a white pickup truck.
The accident occurred when a pickup truck struck the back of a tractor-trailer, which was stopped in a lane as a result of a traffic backup. The pickup driver had tried to switch lanes to avoid the collision, but was ultimately unable to avoid the accident. As a result of the collision, the driver was killed.
Rear-end crashes are the most commonly occurring type of accident and represent approximately 29 percent of all car crashes and result in both a substantial number of injuries and fatalities each year. Many of these crashes involve lead vehicles that either stopped or moving slowly shortly before the accident. 
Speak with a Seasoned Tennessee Personal Injury Lawyer
If someone else caused your car accident, it is easy to end up feeling powerless. As the victim of an accident, however, you have certain important rights including the right to pursue compensation. Although it can be difficult to pursue compensation in a court of law or with an insurance carrier, a skilled attorney can help greatly. At Fox, Farley, Willis & Burnette, we remain dedicated to fighting for the results that accident victims deserve. Contact us today for assistance.  
Note: This post was written based on available resources, news stories, and online reports about this incident. As is often the case with fast breaking news, there is always the risk that some details are still being shared and uncovered. Please contact us if you notice any information that should be changed or added. Thanks!