Deadly Accident Occurs on Interstate 40 in Roane County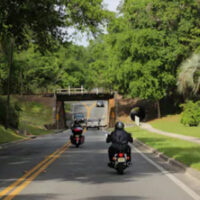 Roane County, TN (August 8, 2020) Tennessee Highway Patrol is investigating a double fatality accident that occurred on Interstate 40 in Roane County. Law enforcement reports that a Dodge Charger struck a 2011 Harley Davidson while both vehicles were headed east around the 351 mile marker. The collision resulted in both the motorcycle's driver and passenger being ejected from the vehicle, while the Charger overturned and came to a stop. Debris that spilled from both the car and motorcycle collided with a second motorcycle that was stationary at the side of Interstate 40 and not occupied. Both the motorcycle driver and passenger were killed in the accident. The Charger's driver was injured and law enforcement states that charges are currently pending against him.
The Insurance Institute for Highway Safety found that in 2018, 4,985 people lost their lives in motorcycle accidents. While this number is down from the 5,229 individuals who died from motorcycle accidents in 2017, it is still an alarmingly high number.
Dangerous Types of Motorcycle Injuries 
When motorcycle accidents occur in Tennessee, there are five types of injuries that tend to be the deadliest. These injuries include:
Head injuries, which can include traumatic brain damage and which commonly occur because riders are not wearing helmets.
Neck injuries, which commonly occur when riders are ejected from their vehicle.
Leg and foot injuries, which occur when motorcycles fall on the bottom half of a person's body.
Biker's arm, which occurs when riders try to brace themselves immediately following an accident. There are also many other life-changing hand, wrist, and arm injuries that riders can receive.
Road rash, which occurs when riders are dragged across pavement following an accident.
Speak with a Knowledgeable Tennessee Accident Attorney 
The results of motorcycle accidents are often devastating. If another party was responsible for your accident, an experienced attorney can help you pursue compensation. Contact Fox, Farley, Willis & Burnette today to schedule a free case evaluation.
Note: This post was written based on available resources, news stories, and online reports about this incident. As is often the case with fast breaking news, there is always the risk that some details are still being shared and uncovered. Please contact us if you notice any information that should be changed or added. Thanks!