Deadly Accident Occurs in Roane County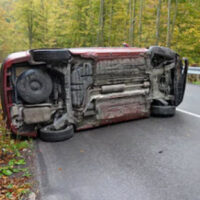 Roane County, TN (August 19, 2020) Law enforcement in Roane County reports that a deadly vehicle accident occurred on August 19th. The accident involved a single vehicle rollover that left the driver unresponsive. Additional details about the accident are pending by the Tennessee Highway Patrol.
The Insurance Institute for Highway Safety's data shows that 6,583 passenger vehicle occupants died in rollovers in 2018. 
How to Reduce the Risk of Rollover Accidents 
Some of the critical steps that you can follow to reduce the risk of rollover accidents include:
Avoid overloading your vehicle because when its weight increases, the stability of the vehicle decreases. It is critical to remain within load ratings.
Exercise caution when navigating corners. When motorists try to speed around corners, they are at an increased chance of the vehicle losing balance and rolling over.
Frequently examine your vehicle's tires to make sure that they are in good condition
Limit your vehicle's speed. Traveling at greater speeds increases the chances of a crash.
Make sure that your vehicle is up to date on safety regulations, which include meeting the recommended Electronic Stability Control requirements.
Remain cautious on rural highways, which is where a large number of deadly rollover accidents happen.
Try not to panic and overcorrect when driving. Overcorrecting increases a person's chances of losing control of their vehicle.

Contact an Experienced Tennessee Car Accident Lawyer 
If someone else played a role in your car accident, it helps to remember that you have a right to pursue compensation. Contact Fox, Farley, Willis & Burnette today to schedule a free case evaluation. 
Note: This post was written based on available resources, news stories, and online reports about this incident. As is often the case with fast breaking news, there is always the risk that some details are still being shared and uncovered. Please contact us if you notice any information that should be changed or added. Thanks!