Cumberland County Police Vehicle Struck by Drunk Driver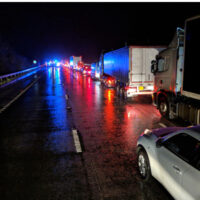 Cumberland County, TN (November 17, 2020) Cumberland County law enforcement was nearly struck by a vehicle and had to perform an evasive maneuver after a vehicle came straight at the law enforcement cruiser on November 17th on Dogwood Road. A pursuit began with the driver reaching speeds greater than 95 miles per hour. The chase went onto Alloway Road and then Possum Trot, at which point a UPS driver had to leave the road to avoid being struck by the driver. The chase then entered Rhea County and ended with the driver and a passenger running on foot. The driver was then captured and charged with driving under the influence as well as driving on a revoked license, felony evading arrest, reckless driving, and several counts of reckless endangerment. The passenger has not been located and is wanted by law enforcement.
The National Highway Traffic Safety Administration has found that 30 individuals in the United States die each year in drunk-driving accidents, which translates to one individual every 50 minutes. These fatalities have fortunately fallen by a third in the last three decades, but drunk driving still claims the lives of countless motorists each year. An even large number of people end up experiencing injuries or substantial property damage like destroyed vehicles as a result of drunk driving. 
Speak with a Drunk Driving Accident Attorney
If you or a loved one has been injured in a drunk driving accident, you can suddenly find yourself facing countless hardships. One of the best things to do in such a situation is to promptly retain the assistance of an experienced personal injury lawyer. At Fox, Farley, Willis & Burnette, we will remain committed to fighting for the results you deserve. Contact us today for assistance.
Note: This post was written based on available resources, news stories, and online reports about this incident. As is often the case with fast breaking news, there is always the risk that some details are still being shared and uncovered. Please contact us if you notice any information that should be changed or added. Thanks!