Clinton Victim Speaks Out on Rise in Tennessee Motorcycle Accidents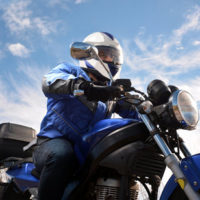 Summer is a popular time for Tennessee motorcyclists to take to the open road. Unfortunately, the road is not always so friendly to motorcycles. There has been a notable increase in fatalities related to motorcycle accidents in recent years. According to the Tennessee Highway Patrol's most recent statistics, a record 147 motorcyclists died on the state's roads in 2016, which represented a 20 percent increase over the previous year. And contrary to what you might think, over 90 percent of the motorcyclists killed were wearing their helmets at the time of their accidents.
Uninsured, Unlicensed Driver Seriously Injures 31-Year-Old Motorcyclist
Recently, a man who was fortunate to survive a motorcycle accident spoke out on the risks faced by him and his fellow motorcyclists on Tennessee's highways. The accident occurred on the evening of July 12, 2017, at the intersection of Clinton Highway and Wallwood Road here in Knoxville. According to new reports, a car made a left turn off the highway and straight into the path of a motorcycle. Both the driver and the motorcyclist were treated fur serious injuries at the University of Tennessee Medical Center. Police later charged the car driver with several traffic violations, including driving with a revoked license and failure to yield the right of way to the motorcycle.
For his part, the injured motorcyclist–31-year-old Travis Walker–spoke out about the accident. He told WBIR that he sustained a collapsed lung, broken rib, and broken shoulder blade, among other injuries. Walker noted his situation was far from unique–indeed, he said at least 5 other people he knew personally were involved in motorcycle accidents within the month preceding his own collision.
Overall, the Tennessee Highway Patrol confirmed there have been 124 motorcycle accidents in the 11-county Knoxville district alone during the first seven months of 2017. In five cases the motorcyclist died as a result of their injuries. The Highway Patrol also noted that its figures do not include accidents handled by local law enforcement.
Get Help Seeking Compensation Following a Serious Motorcycle Accident
There's no doubt Travis Walker was lucky to survive his crash. But that doesn't mean he's out of the woods. Walker told WBIR he is unable to work as he recovers, and the driver who hit him does not have car insurance. As a result, Walker said he's been forced to conduct an online fundraiser to help pay his medical bills.
Unfortunately, this is a scenario we see all too often with accident victims. They are seriously injured through no fault of their own, only to find the negligent driver lacks any sense of financial responsibility. This is why it is critical to speak with a qualified Clinton motorcycle accident attorney following a crash. There are a number of legal options that may be available for recovering damages to help pay for your medical bills, lost wages, and other damages. Contact Fox, Farley, Willis & Burnette, Attorneys at Law, in Clinton or Knoxville today if you need legal advice following a serious accident.
Sources:
tn.gov/content/dam/tn/safety/documents/MotorcycleFatals1998-2015.pdf
wbir.com/article/news/two-seriously-injured-in-vehicle-crash-on-clinton-highway/51-573450834
wbir.com/article/news/local/knoxville-man-urges-safe-driving-after-surviving-motorcycle-accident/51-574940965