Clarksville Police Investigating Fatal Car Crash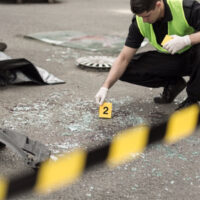 Clarksville, TN (August 29, 2020) Law enforcement from the Clarksville Police Department is currently investigating a deadly car crash that occurred on August 29th. The accident occurred at 6 a.m. when a vehicle and a motorcycle collided at the intersection of Fort Campbell Boulevard and Lady Marion Drive. Tragically, one person died from injuries incurred in the accident while emergency personnel airlifted another person to a nearby hospital with serious injuries.
Based on analysis performed by the National Highway Traffic Safety Administration's National Center for Statistics and Analysis, in 2008 approximately 40 percent of the 5,811,000 accidents that occurred in the United States were intersection-related crashes. 
Common Causes of Intersection Accidents
Various factors can result in intersection accidents, but some of the most common reasons why these crashes occur include:
Traffic congestion, which is often made worse by aggressive or reckless driving
Distracted driving when drivers fail to stop in time for other vehicles
Drivers who are in a hurry to reach their destination and speed through intersections
Adverse weather conditions that result in limited visibility and slippery roads
Drivers who fail to yield for other motorists who have the right-of-way
Speak with an Experienced Tennessee Car Accident Attorney
Tennessee car accidents have the potential to change the lives of people involved. If you or a loved one has been injured in an accident, it can help to retain the assistance of an experienced attorney. Contact Fox, Farley, Willis & Burnette today to schedule a free case evaluation.
Note: This post was written based on available resources, news stories, and online reports about this incident. As is often the case with fast breaking news, there is always the risk that some details are still being shared and uncovered. Please contact us if you notice any information that should be changed or added. Thanks!