Car Ends Up in Ditch After Cumberland County Crash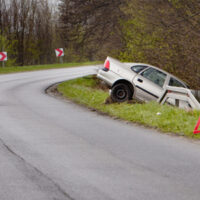 Cumberland County, TN (November 30, 2020) First responders for Cumberland County went to the scene of a crash on November 30th that occurred in the 4600 block of Maryland Road. The driver told law enforcement that her vehicle slid off the road and entered a ditch. The driver was transported to a Crossville hospital for treatment of non-life threatening injuries. Additional details including what caused the vehicle to slide off the road and whether anyone else was involved remain uncertain. A more detailed report of the crash is pending.
While the motorist in this case was able to avoid fatal injuries, not all motorists who are involved in single vehicle crashes can say the same. The Insurance Information Institute Highway Safety has found that 53 percent of motor vehicle crash deaths in 2018 involved single vehicles. It is also worth noting that despite what many people, there are many ways in which single vehicle crashes occur where the fault does not lie in the driver. 
Obtain the Services of an Experienced Car Crash Lawyer
Many people discover that car accidents are life-changing. One moment, a person is driving on one of Tennessee's roads focused on daily tasks and activities. A few moments later, a person is in a vehicle that is in a ditch or the side of the road. If you find yourself in such a situation, it is easy to end up uncertain about how to proceed. One of the best steps that you can take in such a situation is to obtain the assistance of an experienced accident attorney. Contact Fox Willis PLLC and during a free case evaluation, we can help you determine your available options to pursue compensation.
Note: This post was written based on available resources, news stories, and online reports about this incident. As is often the case with fast breaking news, there is always the risk that some details are still being shared and uncovered. Please contact us if you notice any information that should be changed or added. Thanks!