Car Crashes Into Brainerd Pharmacy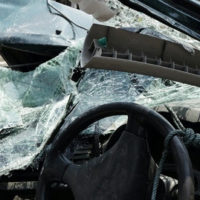 Chattanooga, TN (September 21, 2020) A woman was injured on the morning of September 21st when her vehicle crashedthrough Brainerd Pharmacy. Emergency workers arrived at the scene to find the vehicle inside of the door and promptly began the extraction effort. Additional details about the accident including its cause and whether injuries were incurred still remain under investigation.
The Storefront Safety Council reports that the most frequent cause of vehicle into building accidents is operator error, which accounts for 22% of these accidents. Some of the other leading causes of vehicle into building accidents include driving under the influence, pedal error, and medical causes.
How to Respond if a Vehicle Crashes Into Your Home
Vehicles crash into buildings on a surprisingly routine basis. Due to the substantial property damage that often occurs, it can be difficult to decide exactly how to respond. One of the best first steps to take in such a situation is to promptly obtain medical care for any injuries that you or anyone else incurred in the accident. Afterwards, you should consider how to collect as much evidence about the accident as possible. Some of the critical steps that people should take to gather evidence includes:
Contacting the police and obtaining a police report
Keeping medical records for any injuries sustained in the accident
Photographing any property damage
Speak with a Knowledgeable Tennessee Car Crash Lawyer
If you or a loved one has been involved in a car accident caused by someone else, you should not hesitate to speak with a knowledgeable attorney. At Fox, Farley, Willis & Burnette, our compassionate lawyers will remain committed to fighting for the results you deserve. Contact our law office today to schedule a free initial case evaluation.
Note: This post was written based on available resources, news stories, and online reports about this incident. As is often the case with fast breaking news, there is always the risk that some details are still being shared and uncovered. Please contact us if you notice any information that should be changed or added. Thanks!