Car Crash in Rhea County leaves One Person Dead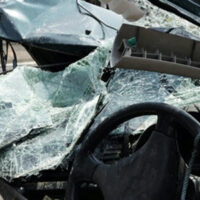 Rhea County, TN (September 23, 2020) A car crash in Rhea County on the night of September 23rd left one person dead. Law enforcement reports that a vehicle was traveling recklessly on Highway 27 near Jackson Road between Spring City and Evansville. The driver of a Jeep was making a left turn when he was struck by the reckless driver. The Jeep's driver later died from injuries incurred in the collision. The reckless driver was extricated from his vehicle and airlifted to a nearby medical center. Law enforcement reports that charges in the case are pending.
The Centers for Disease Control and Prevention report that in 2016, 10,497 people died as a result of alcohol-impaired related accidents. This represents 28% of all the traffic-related fatalities that occurred in the United States in 2016. This equates to 29 people in the United States dying each day as a result of alcohol-impaired driving or one fatality every 50 minutes. While these deaths often involved impaired drivers, they also often tragically involved other motorists on the road.
Obtain the Services of a Compassionate Tennessee Car Crash Lawyer 
If you lost a loved one in a car crash, no amount of compensation can make up for this loss. Compensation, however, can help to pay for things like funeral and burial costs as well as other hardships created by the loved one's death. Fighting for this compensation can be difficult, but an experienced attorney can help. Contact Fox, Farley, Willis & Burnette today to schedule a free case evaluation.
Note: This post was written based on available resources, news stories, and online reports about this incident. As is often the case with fast breaking news, there is always the risk that some details are still being shared and uncovered. Please contact us if you notice any information that should be changed or added. Thanks!