Car Catches on Fire in West Knoxville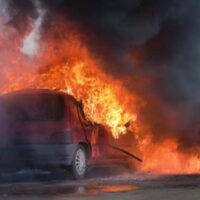 Knoxville, TN (August 10, 2020) Based on a Rural Metro dispatch, a vehicle fire occurred in West Knoxville on the afternoon of August 10th. Crews were promptly dispatched to the scene at Wallace Road to contain the fire. Additional details about the accident are still pending.
The Insurance Information Institute reports that fires occurred in highway-type vehicles every 2 minutes and 54 seconds.
Common Reasons for Tennessee Vehicle Fires
Some of the most common reasons why Tennessee vehicle fires include:
Fuel leaks, which are the most common cause of vehicle fires. This is because when fuel leaks and vaporizes into the air below a car's hood, this combination is suitable for ignition.
Electrical system failures are another common cause of vehicle fires. This is because a car's battery can produce hydrogen gas, which can lead to deadly explosions.
It's common for poorly neglected vehicles to experience engine overheating. When overheated engines come into contact with flammable liquids like motor oil, automatic transmission fluid, hydraulic brake fluid, or engine coolant, fires are likely.
Aftermarket accessories can create electrical faults, which result in fires. These accessories can include anything from stereo wiring to new lighting.
Contact a Knoxville Accident Attorney 
When vehicle fires occur, the owner or driver of the car is not always responsible. If you've been injured in a vehicle fire in Knoxville or the surrounding area and someone else is responsible, do not hesitate to contact Fox, Farley, Willis & Burnette today to schedule a free case evaluation.
Note: This post was written based on available resources, news stories, and online reports about this incident. As is often the case with fast breaking news, there is always the risk that some details are still being shared and uncovered. Please contact us if you notice any information that should be changed or added. Thanks!