Camper Catches Fire on Interstate 40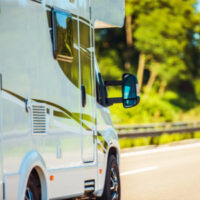 Knox County, TN (October 21, 2020) The Knoxville Police reported that a truck pulling a fifth-wheel trailer pulled over to the shoulder of Interstate 40 on October 21st with a brake fire in the vehicle's trailer. Fortunately, a bystander was able to help the driver separate the trailer from the truck. The bystander then experienced a "cardiac event". The Knoxville Fire Department provided aid on the scene of the accident. The bystander was later transported to the hospital.
The Tennessee Department of Transportation reports that lanes in both directions were blocked. Pellissippi Parkway westbound was also temporarily closed at Kingston Pike. All lanes of Pellissippi Parkway, however, have since reopened. Additional details about the accident including what caused the fire are still pending. Also while earlier reports stated that the driver was injured, the bystander appears to have been the only individual transported to the hospital.
The United States Fire Administration reports that approximately one in eight fires responded to by fire departments are highway vehicle fires. Sixty two percent of these fires began in the engine, but brakes are also a common place for fires to originate as well. Most often brake fires are a result of dragging brakes or brakes that are adjusted too tightly. This might be the result of improper vehicle maintenance or inadequate repairs.
Speak with a Vehicle Accident Attorney               
If someone else played a role in causing your vehicle fire, you should not hesitate to contact a knowledgeable lawyer. At Fox, Farley, Willis & Burnette, our attorneys will remain committed to fighting for the results you deserve. Contact our law office today.
Note: This post was written based on available resources, news stories, and online reports about this incident. As is often the case with fast breaking news, there is always the risk that some details are still being shared and uncovered. Please contact us if you notice any information that should be changed or added. Thanks!