Called To Mediation? Here's What To Expect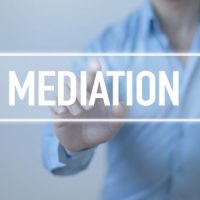 If you are in an accident and your personal injury attorney files a lawsuit for you, you may eventually hear your attorney say that you need to go to a mediation. This may sound scary or intimidating, but actually it is not and is a normal part of the process of a personal injury lawsuit.
What is Mediation?
A mediation is an attempt to get the case settled. Many judges will require that cases go to mediation before a trial can actually happen, in an attempt to get as many cases settled before trial as possible.
A mediation is not a trial. It is simply a chance for you (with your attorney) and the other side in your case, to sit down together and go back and forth and negotiate, in an attempt to get your case settled.
The Role of the Mediator
There is a mediator present, but the mediator doesn't actually decide anything; the mediator is not a judge. Think of the mediator more as a facilitator; the mediator is trying to get you to accept less compensation, and the other side to pay more compensation, in an attempt to get both sides at a settlement dollar figure that both are willing to settle the case for.
The mediator may ask you questions at mediation, but they are really just informal questions that the mediator will use to try to get the sides to settle. You don't have to answer anything at mediation, and in many cases, your attorney will be there, and will answer many of the questions for you.
Everything that is said at mediation is strictly confidential; it cannot be used against you later at trial, and nothing is being recorded or written down. So you don't have to worry about "saying something wrong."
The Process
In most mediations, your attorney and the other side's attorney will give a quick statement about the case—what happened in the accident, and what evidence that they have, or what evidence they anticipate getting that they will use when and if a trial should occur in the future.
At some point, you and your attorney may separate from the other side and their attorney. The mediator may go back and forth between both parties, trying to get both sides at a compensation figure that they can accept. Your attorney will give you advice as the mediation goes forward, about whether it is in your best interest to accept a given settlement offer or not.
If you do resolve the case, the case is over. The mediator or one of the attorneys will draw up a settlement document that you will sign, and you will not have to take your case to trial. If you do not settle the case, there is no harm done—you can proceed with the case, as normal.
We can help you understand what to expect in your accident case. Call the Clinton personal injury lawyers at Fox Farley Willis & Burnette, PLLC, today.
Source:
jdsupra.com/legalnews/what-happens-at-mediation-in-a-personal-59413/