Boy Killed in Mooresburg ATV Crash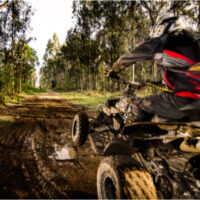 Hawkins County, TN (July 19, 2020) The Tennessee Highway Patrol reports that a 12-year-old boy in Mooresburg was killed on July 19th in an ATV accident. Based on a report provided by law enforcement, the ATV driver was traveling east on Byrd Creek Road in Hawkins County when the ATV went through a ditch, and struck a boulder and embankment. As a result of this collision, the ATV overturned. While the ATV driver was injured, the ATV passenger was killed.
The Consumer Product Safety Commission provides some alarming details about the danger of ATV accidents, which include that over 200 individuals were killed in ATV accidents in 2018 and that between January 1, 1982 to December 31, 2018, approximately 592 people died in ATV accidents in Tennessee. What makes ATV accidents even more tragic is that many of these accidents could be prevented if adequate safety advice is followed.
Liability for ATV Accidents
When ATV accidents occur, there are other parties that can be found liable besides the ATV operator. To determine liability for an ATV accident, it often becomes necessary to perform a detailed review of how an ATV accident occurred. Some of the parties besides ATV drivers that are often found responsible for accidents include:
ATV manufacturers
Companies that maintain or repair ATVs
Entities who own the premise where the ATV accident occurred.
Retain the Services of a Knoxville Car Accident Attorney
ATVs can be fun, but the results from accidents can be devastating. If you or a loved one is injured in an ATV accident and another party is responsible, you should not hesitate to speak with a knowledgeable personal injury lawyer at Fox, Farley, Willis & Burnette today.
Note: This post was written based on available resources, news stories, and online reports about this incident. As is often the case with fast breaking news, there is always the risk that some details are still being shared and uncovered. Please contact us if you notice any information that should be changed or added. Thanks!