Anderson County Motorcycle Crash Results in Death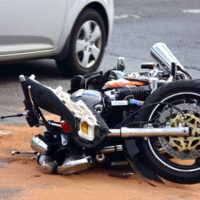 Anderson County, TN (October 6, 2020) An accident involving a motor vehicle and motorcycle occurred on October 6th in Anderson County and resulted in two deaths. The accident occurred when the operator of a motorcycle and an accompanying passenger were traveling north on Clinton Highway at East Wolf Valley Road. A Honda Accord then pulled out into the path of the motorcyclist. The resulting collision ejected the motorcyclist and passenger and both individuals were later pronounced dead at the scene. Both the motorcyclist and passenger were wearing helmets at the time of the accident. The Honda's driver, however, was not injured and law enforcement reports that charges are currently pending against him.
The Insurance Information Institute reports that in 2017, there were 5,172 motorcycle accidents that resulted in fatalities. Among weekends and weekdays, the period on weekdays between 3 pm to 6 pm saw the largest number of deadly motorcycle crashes. The period of the week when the smallest number of deadly motorcycle accidents was between 3 am to 6 am on both weekdays and weekends. There are many factors that result in deadly motorcycle crashes, but two of the most common causes are distracted and intoxicated driving.
Speak with a Tennessee Motorcycle Accident Attorney                 
Despite what many people think, a large number of motorcycle accidents are the result of errors made by motor vehicle drivers. If you're a motorcyclist who was harmed as the result of someone else's mistake, you have a right to pursue compensation. Contact Fox, Farley, Willis & Burnette today for assistance.
Note: This post was written based on available resources, news stories, and online reports about this incident. As is often the case with fast breaking news, there is always the risk that some details are still being shared and uncovered. Please contact us if you notice any information that should be changed or added. Thanks!