Accident Shuts Down All Lanes of Interstate-65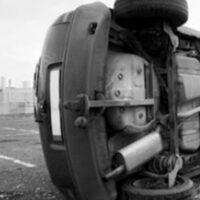 Nashville, TN (July 16, 2020) Interstate 65 at mile marker 87 shut down briefly on July 16 following an accident that resulted in an overturned vehicle. The Tennessee Department of Transportation reports that the accident occurred around 3:13 p.m., and by 4:45 p.m. the interstate had entirely reopened with the exception of the two right lanes. Additional details regarding the accident are still not available.
Vehicle rollovers are one of the worst types of accidents. According to the National Highway Traffic Safety Administration, rollovers represented only 2.1% of the 9.1 million vehicle accidents that occurred in 2010. Rollovers, however, represented approximately 35% of all deaths from passenger vehicle accidents.
How to Prevent the Risk of Rollover Accidents
Fortunately, there are some helpful strategies that motorists can follow to greatly reduce the risk of ending up in a rollover accident. Some of these tips include:
Always wear your safety belt. Belts help to keep motorists in their seat so they are not tossed about during a rollover accident. A large number of rollover fatalities occur when people are either partially or completely ejected from their vehicle.
Make sure that your vehicle's tires are in good condition and properly inflated.
Newer vehicles with state-of-the-art safety systems are much less likely to end up in rollover accidents than older vehicles. As a result, you might consider purchasing a newer vehicle.
Speeding greatly increases a vehicle's risk of rolling over. As a result, it is a good idea to always travel at a reasonable speed.
Overloading vehicles greatly decreases their stability. Make sure to stay within the vehicle's load ratings.
Contact a Tennessee Car Accident Lawyer 
Regardless of how your car accident happened, it is common to end up feeling overwhelmed and uncertain about how to proceed. One of the best steps to take is to promptly obtain the assistance of a skilled attorney who will fight for the results you deserve. Contact Fox, Farley, Willis & Burnette today to schedule a free case evaluation.
Note: This post was written based on available resources, news stories, and online reports about this incident. As is often the case with fast breaking news, there is always the risk that some details are still being shared and uncovered. Please contact us if you notice any information that should be changed or added. Thanks!