4 People Rescued from Water Following Two Incidents at Seven Islands State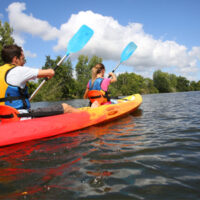 Kodak, TN (August 30, 2020) The Tennessee Wildlife Resources Agency reports that four individuals were rescued from the water in two separate incidents that occurred at Seven Islands State Birding Park on August 30th. Fortunately, no one was injured and everyone involved was wearing a life jacket. Knox County Rescue workers also responded to the rescue.
The Centers for Disease Control and Prevention reports that each day, approximately 10 individuals die as a result of unintentional drowning. While children aged 14 or younger make up two of these ten individuals, anyone engaged in risky water activities can drown.
How to Avoid Water Accidents 
Some of the best ways to reduce the risk of drowning as well as other water-based accidents include:
Always avoid leaving children unsupervised near bodies of water. If you are with a group, adults can take turns as the "designated watcher" who can focus entirely on the safety of children.
If you plan on engaging in any water activity make sure to learn cardiopulmonary resuscitation (CPR)
Make sure to teach children to learn to swim. Even if a child is not fully prepared to swim, some body movements in water might still be able to reduce the risk of drowning.
Regardless of the water activity you're participating in, avoid alcohol or drugs. This can impair a person's ability to swim and greatly increase the risk of drowning.
Speak with an Experienced Accident Attorney
If you or a loved one has been injured in a water accident, it can be confusing to determine what to do next. Fortunately, an experienced lawyer can help. Contact Fox, Farley, Willis & Burnette today to schedule a free case evaluation.
Note: This post was written based on available resources, news stories, and online reports about this incident. As is often the case with fast breaking news, there is always the risk that some details are still being shared and uncovered. Please contact us if you notice any information that should be changed or added. Thanks!