2 People Shot in Knoxville Following Road Rage on Interstate 40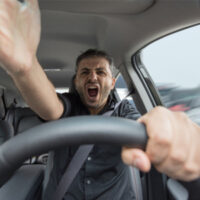 Knoxville, TN (November 27, 2020) Two individuals were transported to the hospital on November 27th following a case of road rage that occurred on Interstate 40 in East Knox County. Knoxville law enforcement responded to a call of an individual being shot due to road rage on Interstate 40 West close to Strawberry Plains.
Investigators who responded to the scene reported that two victims with gunshot wounds in a Volkswagen Jetta were discovered on the side of the road. Both of these victims were then transported to the hospital with non-life threatening injuries. Preliminary investigations later revealed that the scene was the result of road rage and that the victims did not know the suspect. An investigation into the event is ongoing and law enforcement is searching for two individuals who are driving a new model Blue Ford Explorer.
In a 2020 analysis of road rage, The Zebra focused on data compiled by the National Highway Traffic Safety Administration, which found that 66% of all traffic fatalities are the result of aggressive driving. The Zebra also reviewed evidence compiled by AutoVantage Club, which found that 37% of aggressive driving incidents involve a firearm. Victims of road rage often end up incurring serious and sometimes even deadly injuries. Holding the motorist who engaged in road rage accountable can help victims pay for the various damages they can end up facing including pain and suffering, property damages, lost wages, and medical bills. 
Obtain the Services of a Road Rage Accident Attorney                 
At Fox, Farley, Willis & Burnette, our attorneys have substantial experience assisting the victims of car crashes and injuries caused by aggressive driving and road rage. We are committed to pursuing all available compensation for the victims of such events. Contact our law office today to schedule a free case evaluation with an attorney who will remain committed to fighting for the results you deserve.
Note: This post was written based on available resources, news stories, and online reports about this incident. As is often the case with fast breaking news, there is always the risk that some details are still being shared and uncovered. Please contact us if you notice any information that should be changed or added. Thanks!