2 Killed After Motorcycle Crash in Johnson County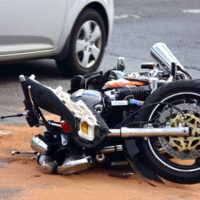 Johnson County, TN (March 24, 2021) Two people were killed in a crash involving a motorcycle in Johnson County on the evening of March 24th. A report provided by the Tennessee Highway Patrol states that the accident occurred in the 5700 block of Highway 91 North shortly after 7 in the evening.
At the time the accident occurred, a Kawasaki motorcyclist along with a passenger were headed south on the highway. Meanwhile, a Dodge Ram truck was headed north on the same highway. While navigating a curve in the road, the motorcyclist slid across the roadway, entered the northbound lane, and slid under the truck. The Dodge then ran over both individuals on the motorcycle before the motorcycle came to a stop in the northbound lane. Both the motorcyclist and passenger were later determined to have correctly been wearing helmets at the time of the accident. The driver of the truck was not injured, but the motorcyclist and passenger were killed. No citations or charges were issued in connection to the accident, but additional details about how the crash occurred are still under investigation.
The Insurance Information Institute reports that in 2018, 4,985 motorcyclists died in motorcycle crashes. 
Contact a Tennessee Motorcycle Accident Attorney              
Because motorcycles are not equipped with sufficient safety restraints, accidents involving motorcycles are often devastating in nature and frequently involve life-changing injuries or fatalities. If you or a loved one was injured in a Tennessee motorcycle accident and someone else was responsible for causing the crash, you should not hesitate to speak with an experienced personal injury lawyer. Contact Fox, Farley, Willis & Burnette today to schedule a free case evaluation.
Note: This post was written based on available resources, news stories, and online reports about this incident. As is often the case with fast breaking news, there is always the risk that some details are still being shared and uncovered. Please contact us if you notice any information that should be changed or added. Thanks!