Knoxville Motorcycle Accident Lawyer
Experienced Knoxville Motorcycle Accident Attorneys
Last year, the Department of Safety & Homeland Security reported that there were 123 motorcyclist fatalities in Tennessee. Being involved in a motorcycle accident can have devastating physical and emotional consequences for victims and their families, and our Knoxville motorcycle accident lawyers are committed to ensuring that if you have been injured, you obtain the compensation you deserve.
Knoxville Motorcycle Injuries
Accidents involving motorcycles are especially devastating for riders because injuries tend to be much more serious than those sustained in collisions between standard vehicles. This higher risk of injury is due in large part to the following factors:
Motorcyclists are more vulnerable to direct impacts between their bodies and the roadway than are automobile drivers, due to the lack of a barrier between the road and the driver;
Motorcycles are less stable than automobiles and are more easily knocked off balance;
A lighter impact can cause greater damage in a motorcycle accident due to the smaller size of the vehicle;
Riding a motorcycle is much more difficult than driving a car, and many motorcyclists lack the requisite skill; and
Their lack of size makes motorcycles much less visible to other cars on the road.
Poorly maintained roadways can also be a serious hazard for motorcycle riders, who are more susceptible to injury from road defects like potholes and drainage problems.
Accident Types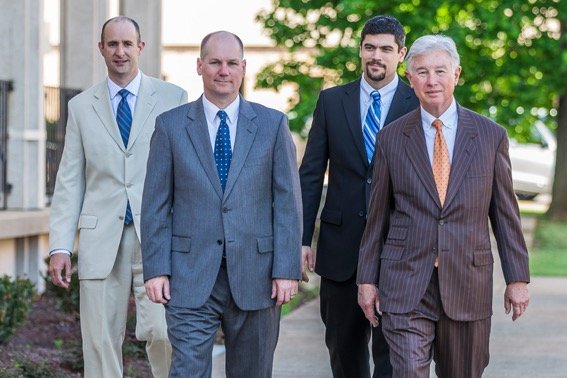 More than half of motorcycle accident fatalities involve another vehicle. The following types of accidents are some of the most common:
Head-on Collisions: Cars striking a motorcycle head-on occur at an alarming rate. These types of accidents have a high likelihood of causing death to the motorcycle operator.
Left-Hand Turns: Another one of the most dangerous types of accidents involving both a vehicle and a motorcycle occurs when a car's driver is turning left and does not see the motorcyclist as he or she travels straight through an intersection or tries to pass the car.
Lane-Splitting: Lane-splitting occurs when a motorcyclist drives between two lanes. The close proximity of the cars to the motorcyclist, the smaller space that the motorcyclist has to maneuver, and the element of surprise all make it more likely that a motorcyclist will be injured while lane-splitting.
Common Injuries
The smaller size and lack of a barrier or protective safety devices likes seat belts and air bags makes it much more likely that a motorcyclist involved in an accident will sustain a serious injury. Some of the most common injuries suffered by motorcyclists include:
Whiplash;
Road rash;
Burns;
Broken bones;
Organ damage and internal bleeding;
Traumatic brain injuries;
Spinal cord damage;
Paralysis; and
Amputation
Accidents involving motorcycles are far more likely to be deadly to the motorcyclist than to the driver of the other vehicle. The Knoxville motorcycle accident lawyers have successfully represented numerous families who lost their loved ones in a motorcycle accident that was caused by another person's negligence.
Proving Negligence
In order to establish liability, an injured party will need to show that the other driver acted negligently and caused the accident. To prove this, he or she must show that:
The at-fault party was required by law to be reasonably careful;
The defendant's conduct was not that of a reasonable person;
The negligent conduct caused the victim's injuries; and
The victim was injured or suffered property damage.
Liability for a motorcyclist's injuries will depend on the relative negligence of the parties. Tennessee follows the legal theory of modified comparative negligence. This means that courts will assign each party its percentage of responsibility for the accident. As long as the accident victim's fault is determined to be 49 percent or less, he or she can still collect damages for the remaining percentage of fault. For instance, if a motorcyclist was lane-splitting, a judge may apportion him or her part of the blame because the maneuver is generally understood to be risky. However, injured motorcyclists may be able to escape blame if they can show that:
They were not speeding or weaving between cars, but operated the motorcycle carefully and responsibly;
They have significant experience in operating motorcycles;
They have completed a motorcycle safety course; or
The other driver did something more negligent or reckless, such as drifting into another lane or making an abrupt lane change without signaling. 
Product Liability
In some cases, another driver's negligence is not the cause of an accident. Instead, the motorcycle itself or one of its parts might be defective. In this type of situation, an injured motorcyclist can still recover under the legal theory of product liability. There are two types of defective product claims involving motorcycles: those arising from defectively manufactured motorcycles or parts and those arising from a claim that the motorcycle design itself was defective.
To present a claim based on the argument that a motorcycle or its parts were defectively produced, an injured motorcyclist must show that there was a mistake made at the manufacturing facility where the motorcycle or part was produced. Alternatively, an injured party can attempt to show that while the motorcycle was appropriately manufactured, it encountered a problem during shipping or at the dealership that made it unsafe to operate.
If the motorcycle or its parts were produced correctly and as planned, but the designs themselves were unreasonably dangerous, a victim may also be owed compensation from the manufacturer. In many cases of this nature, the defective part will be subject to a safety recall, which is initiated by the manufacturer or mandated by the National Highway Traffic Safety Administration (NHTSA) and requires the manufacturer to notify motorcycle owners of the danger and either repair, repurchase, or replace the part or the motorcycle itself. 
Beginning the Process of Recovery
The Knoxville motorcycle accident lawyers at Fox, Farley, Willis & Burnette have decades of experience in representing victims of motorcycle accidents. We will aggressively pursue your claim and attempt to get you the compensation that you deserve. Our legal team also operates on a contingency basis, so you will not owe us anything unless your case is successful. If you have been injured or lost a loved one in a motorcycle accident, please contact us at (866) 958-4414 for a free consultation.