Vehicle Fire on Interstate 40 Causes Traffic Backup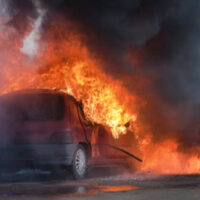 Knox County, TN (August 5, 2020) Officials with the Tennessee Department of Transportation report that an Interstate 40 vehicle fire occurred on the morning of August 5th. The incident occurred around 7:30 a.m. near 380 and resulted in the off ramp being blocked, while westbound traffic was not impacted. Work crews expected an hour to clear the accident scene. Additional details about how the vehicle fire occurred are still pending.
The U.S. Fire Administration reports that 212,500 vehicle fires occurred in 2018. Many of these fires led to injuries, and even fatalities.
Common Causes of Vehicle Fires 
Some of the most common causes of vehicle fires include:
Design flaws including electrical issues or faulty batteries
Electrical problems involving batteries or heating systems
Engines that overheat coolants or oils, which then ignite
Improperly maintained catalytic converters that overheat
Vehicle collisions in which the gas tank is struck
How to Respond if Your Vehicle Catches Fire 
If your vehicle catches fire, there are some critical steps that you should remember to take, which include:
If your engine begins to fume or you smell burning rubber, pull over to the side of the road and immediately turn off your engine
Avoid opening the trunk or hood
Move at least 100 feet away from the vehicle
If you have a phone, contact emergency workers
Remain as far away as possible from the vehicle until emergency workers arrive
Speak with a Knowledgeable Knoxville Accident Attorney 
Accidents involving vehicle fires often result in devastating consequences. If you or a loved one has been injured in a vehicle that was not your fault, do not hesitate to speak with Fox, Farley, Willis & Burnette today.
Note: This post was written based on available resources, news stories, and online reports about this incident. As is often the case with fast breaking news, there is always the risk that some details are still being shared and uncovered. Please contact us if you notice any information that should be changed or added. Thanks!