Cumberland County Crash Occurs Close to Highway 127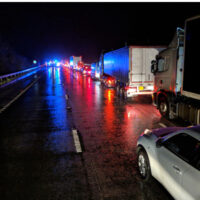 Cumberland County, TN (January 6, 2021) A crash occurred at the intersection of Plateau Road and Highway 127 North on January 6th around 4:00 in the afternoon. Motorists are advised to exercise caution while passing through the area. Additional details about the crash including what caused it and whether anyone was injured or killed in the collisions remains uncertain.
The Anxiety Depression and Association of America has found that many people experience emotional distress following car crashes. It is common, the Association has found, to experience emotional complications like anguish, anxiety, depression, fearfulness, issues with sleep, and recurring nightmares after car crashes occur. These emotions can make it difficult to pursue compensation as well as return to how life was before the crash. 
Speak with a Compassionate Tennessee Personal Injury Lawyer                
If you or a loved one has been injured in a Cumberland County crash that was caused by someone else, it is important to remember that you have rights as an accident victim. One of the rights of accident victims is to hold the parties that car crashes accountable for the resulting damages. One of the best things that you can do in such a situation is to obtain the assistance of an attorney who will fight for the result you deserve. Contact Fox, Farley, Willis & Burnette today to schedule a free case evaluation and during that time our lawyers will discuss your available options to pursue compensation.
Note: This post was written based on available resources, news stories, and online reports about this incident. As is often the case with fast breaking news, there is always the risk that some details are still being shared and uncovered. Please contact us if you notice any information that should be changed or added. Thanks!